The Palace of Justice, built between 1888 and 1910 in a prestigious district of Rome, the Prati, is considered one of the grandest flamboyant buildings which followed the proclamation of Rome as the capital city of the Kingdom of Italy.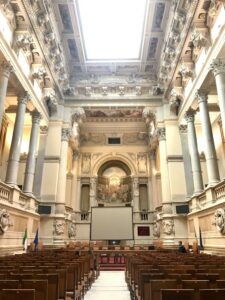 It was designed in the neo-Baroque style by the architect Guglielmo Calderini. During the construction of the Palace of Justice a lot of  corruption scandals arose. Nevertheless, the building turned out to be majestic and on January 11, 1911 it was inaugurated in the presence of the monarch, King of Italy Victor Emmanuel III.
The entrance to the palace is decorated with 10 original statues of famous Italian jurists (Cicero, Marcus Licinius Crassus, Salvo Giuliano, Papiniano, etc.). Above the facade there is a huge quadriga. The hearings of the Supreme Court are held in the halls, the walls of which are painted with unique frescoes. However, the structure is not approved by the local residents who jokingly call it "an ugly palace".
A parliamentary commission of inquiry has been set up to investigate the embezzlement of money during the construction work. Guglielmo Calderini was suspected of collusion with the City Hall, but it was never proven. Unable to bear the shame of the charges, the architect committed suicide in 1916.
rome guide | rome tour guide | rome guided tours | guided tours in rome | rome tour | rome tours | Vatican tours | tickets to Vatican | tickets to the colosseum | rome walking tour | Vatican tour